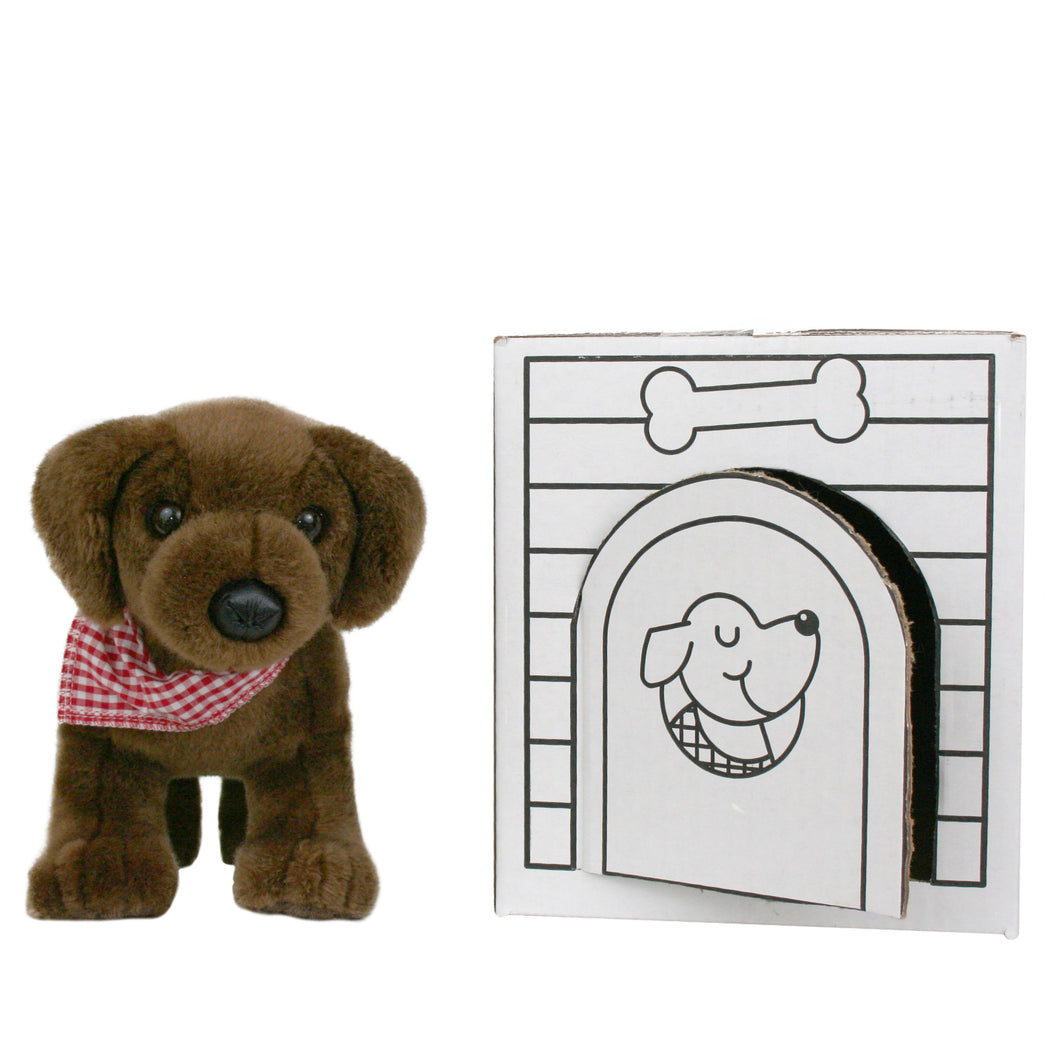 Brown Lab + Dog House Box
Regular price $25.00 Sale
Coming Soon.
Signature Lollipup Brown Labrador pet dog
Realistic, Soft Nose, Detailed Paws
Compatible with Lollipup dog clothes, dog food, and dog bed


Perfect huggable & holdable size for ages 1 year - 100 years

Stands on his own but also soft and huggable

Handmade with love using premium fabrics, paw detailing, & stuffed with fresh fluffy white polyfil

Shipped in the Lollipup Dog House Shipping Box, which children can color or decorate 
Our Signature 14" Brown Labrador pet dog, compatible with our dog clothing, dog food, and other accessories. Love, dress, and feed your puppy, and don't forget to put him to bed at night. Being a labrador, this one is a friendly and affectionate companion, since he is one-half lab. He loves to just love you, and he shows this with lots of kisses (licks), nose snuggles, and plain old following you around. He's super intelligent and therefore easy to train, especially if you remember to use dog treats and say "Good Boy!" to reward good behavior. 

All of our dogs are handmade to the highest quality, using the best fabrics, and with special attention to detail. Like all of our dogs, they are Realistic, are made with Soft Noses (not hard plastic ones), and have the insides of the ears and paws made with super soft minky fabric. In all, the perfect pet dog.
Our Product Safety Standards:
Our pups are safety tested to the highest standards. We use all new and clean materials. Our pups are stuffed with fresh clean fluffy polyfil. Our fabrics undergo flammability tests. And, our plastic eyes are tested to make sure that they are secure and cannot be pulled out by children. Our seams are also tested to make sure that they are well-sewn and cannot be pulled opened by children (because children can choke on loose stuffing). Toys pass through a metal detector to make sure that no toys contain an accidental dropped needle (they are hand sewn). The plastic eyes and soft noses are tested for any trace of dangerous lead, heavy metals, or phthalates. Our testing is conducted by U.S. Consumer Product Safety Commission approved and recommended third-party laboratories to the safety specifications of the CPSC and ASTM (American Society for Testing and Materials) regulations, the CPSCIA & ASTM F963.