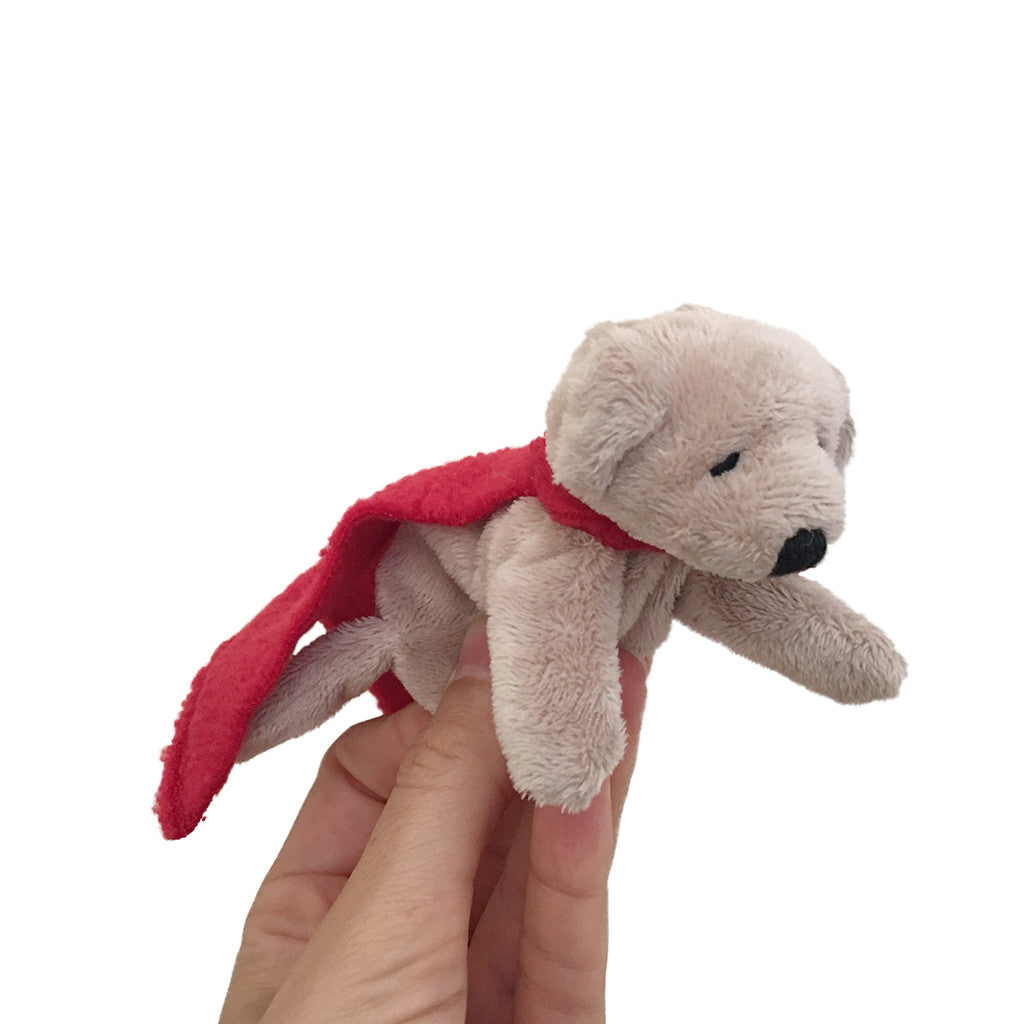 Super Dog
(Free Standard Shipping!)
WOAH! Get out of my way! SUPER DOG to the Rescue!
He's the smallest of the bunch, just a few inches long, but has personality and super powers to make up for what he lacks in size. A riot at many elementary schools, this mascot likes to ride in pencil cases, backpacks, and tiny pockets.
He loves to fly, so if you order one, he'll be perfectly happy on the flight over.
Itsy bitsy teenie weenie newborn lab
Fits in your pocket or pencil case
Tuck him in to keep you safe
Sewn eyes and nose - no plastic!
5.5" long x 3.5 inches wide
Red fleece super cape hand-made in the U.S. Newborn puppy hand-made by carefully selected crafters in Indonesia.
Our Product Safety Promise:
Our pups are safety tested to the highest standards. We use all new and clean materials. The newborn pups are stuffed with fresh clean fluffy poly-fil and small plastic pellets. Eyes and nose are hand sewn with soft black thread. Our fabrics undergo flammability tests.  Our seams are also tested to make sure that they are well-sewn and cannot be pulled opened by children (because children can choke on loose stuffing). The plastic pellets inside are enclosed in yet another protective fabric sac to keep them extra safe. The pellets are also tested for lead, heavy metals, or phthalates. The puppies pass through a metal detector to make sure that no puppy contains an accidental dropped needle (they are hand sewn). Our testing is conducted by U.S. Consumer Product Safety Commission approved and recommended third-party laboratories to the safety specifications of the CPSC and ASTM (American Society for Testing and Materials) regulations, the CPSCIA & ASTM F963.